Events - 5 / 17 / 2013
May 17, 2013 - May 18, 2013
Verona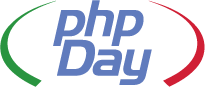 phpDay is the first historic Italian conference dedicated solely to PHP development, technologies and management. It is aimed to IT managers, developers and innovators. Each year it renews the opportunity to link to new business partners.
phpDay introduces the most important international PHP gurus to italian and european developers. Three tracks, two days of talks and workshops: you can learn best-practices, good methodologies, case studies about quality assurance, and have a broader view on development and innovation with PHP.
Attendees will see new development traits, best-practices and success cases related to quality, revision control, test-driven development, continuous integration and so on. There will also be talks about design, project management, agile and various php-related technologies like Zend Framework2, Symfony2, Codeigniter, Drupal, Wordpress.

phpDay 2013 will be on May 17th and 18th.