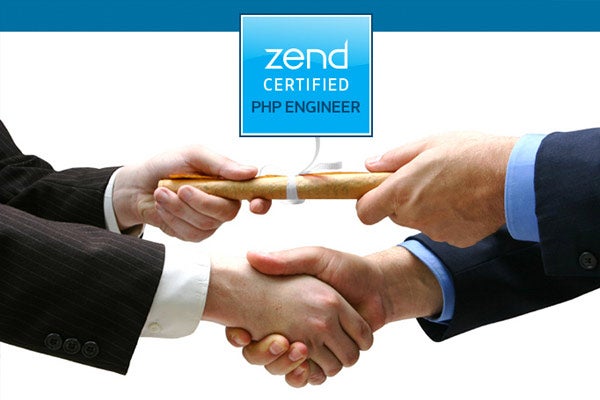 August 28, 2014
Accelerate Your Career With PHP Certification
PHP Development
Zend Server
Have you been thinking about becoming Certified in PHP? Wondering how that will help your career and what benefits you'll get?  A few months ago César Bruschi ran an open poll on the Zend Certified Engineer (ZCE) LinkedIn group asking, "What were the real advantages of the PHP Certification for you? "The feedback and comments from the group were varied. I found it interesting that most listed the biggest benefit was learning more about PHP by just preparing for the exam.
Of course there are many other benefits that the ZCEs have experienced, such as new job offers, pay increases, promotions and a general sense of pride. In the ZCE benefits thread several ZCEs offered feedback on the benefits their personal experience. One of my favorite comments from survey came from Jorge Garcia, a Software Development Engineer at Yahoo!:
"I will personally say that it helped me to boost my career. I pass the exam on Oct/2013 in the ZendCon 2013 and started working at Yahoo! as a php developer 5 months later. Taking into account the amount of resumes and applications that Yahoo receive every day, i can be sure that having that Logo and degree helped me to stand out from the crowd. So, it definitively worth it. Of course it was not only that, i had to go through a rigorous interview process."  Jorge Garcia, Software Development Engineer at Yahoo!
Some experts suggest that a focused certification might be better than a college degree depending on your goals and career aspirations. The Certification Magazine Feb 2014 Salary Survey report had some interesting information on how employers look at certified employees - available here.
"Employers have money to spend on skilled tech workers, and there's an excellent chance you'll get more of that money if you have a certification that verifies your abilities. It's hard to quantify exactly what portion of an individual's salary is directly attributable to certification, but we can make at least one strong correlation: Roughly 90 percent of those who participated in the salary survey hold one or more active certifications. So whether its impact is large or small, certification is a factor in what most of you are being paid." 

"Certification can also play a role in getting promoted, and the salary survey provides some evidence of that effect as well. Roughly 22 percent of respondents report receiving a promotion in the first year after their most recent certification, and about half of those promoted believe that certification played a role in receiving that promotion."
Though this was a more generic certification survey, the results aligned perfectly with what we see with the ZCE survey results.
Additional Zend certification benefits: Discount tickets to PHP Conferences like ZendCon;  Membership to the ZCE LinkedIn group; listing in the ZCE Directory; a special ZCE Logo to add to your resume/CV; Free perpetual copy of Zend Studio and a one year license for Zend Server (upon request.)
Zend provides PHP developers with two certification tracks – Zend Certified PHP Developer, which has become an industry-wide standard and a measure of distinction for PHP development skills, and the Zend Framework Certified Architect certification. Over the last year, Zend has seen over 1,500 new engineers pass the certification.
If you feel you need help to get prepared, Zend has tools to help you get there. We offer both Study Guides and full Test Prep classes. Now is the time to accelerate your career!