Oracle and Zend have a long-standing commitment to the PHP community, with a history of collaboration that has ensured integration between Oracle and Zend's PHP solutions. Oracle Database, Application Server and JDeveloper tool, with a PHP extension, all support PHP development. A sizeable percent of Zend customers use Oracle Database infrastructure to develop and deploy enterprise PHP applications.
Learn more about Zend solutions for Oracle customers (PDF) »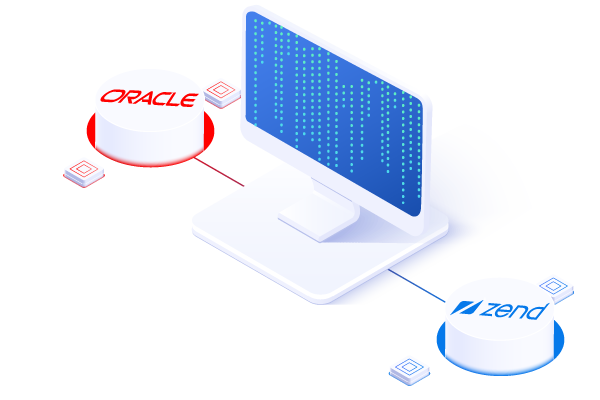 Oracle Enterprise Linux and Zend Server: High Reliability and Performance
Oracle and Zend deliver a reliable, high performance Linux and PHP environment for running business-critical Web applications.
Oracle customers can easily install and update Zend Server from Oracle Unbreakable Linux Network (ULN) through standard, native RPM package delivery (http://linux.oracle.com)
Zend Server includes out-of-the-box connectivity to Oracle Database, minimizing the time required for set up
Full support for applications and production environments running on Oracle Enterprise Linux and Zend Server is available via Oracle (for Oracle Enterprise Linux) and Zend (for Zend Server)
Zend Server Trial
Start your free 30-day trial to see how you can increase PHP app performance, security, and scalability with Zend Server.
Enterprise Services
Review your support and service options.
Contact Us
Get answers to your questions.